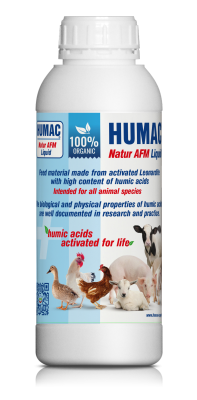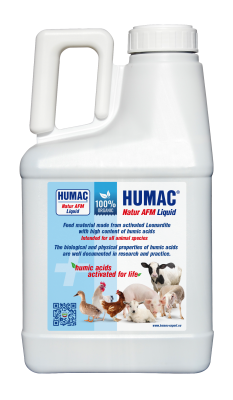 For calves and other animals using liquid feed
Liquid feed material made from Leonardite with high content of humic acids with high efficacy, supplementing the animal organism with important minerals and trace elements in chelated form, readily available for uptake by the animals organism.
Its application is recommended especially for calves by adding it into milk or water. However, the formula can be used with other animal species using liquid feed.
Composition (in dry matter)
Natural humic acids: min. 45%; humic acids in liquid min. 15%; Fulvic acids: max. 5%. Analytical constituents: Ca: 1200 mg / l; Mg: 55 mg / l; Fe: 260 mg / l; Cu: 1.70 mg / l; Mn: 1.97 mg / l; Se: 0.077 mg / l; V: 4.85 mg / l; Zn: 2.65 mg / l; Mo: 0.295 mg / l; Na: 10050 mg / l and all naturally occurring trace elements in μg / kg in the carboxymethylcellulose complex of organic matter.
 
Moisture content

max. 70%

pH

8.0 - 8.3

Particle size

0 - 100 

μm
Available in 1 l, 5 l and 10 l HDPE bottles.
Contact person
For more information and possibilities for cooperation please reach out to our sales representative:
Our location
Werferova 1
040 01 Kosice
Slovakia