For animal husbandry
Feed material made from Leonardite with high content of activated humic acids. A 100% natural product with high biological and physiological activity plays a key role in the maintenance of good productive health of your livestock.
Healthy breeds and healthy food
Approved and recommended for use in organic farming for healthy animal breeding
and production of safe animal based products without toxins
and other residues. The product is GMP+FSA certified.
Intended for all animal species
Only 0,5% per kg of feed is recommended to meet the desired results. This equals to 5kg per 1 ton of feed.
Composition (in dry matter)
Natural humic acids: min. 65%; Fulvic acids: max. 5%.
Analytical constituents: Ca: 42 278 mg/kg; Na: 7 129 mg/kg; K: 903 mg/kg;
Br: 54,7 mg/kg; Mg: 5 111 mg/kg; Fe: 19 046 mg/kg; Cu: 15 mg/kg; Zn: 37 mg/kg;
Mn: 142 mg/kg; Co: 1,24 mg/kg; Se: 1,67 mg/kg; V:42,1 mg/kg; Mo: 2,7 mg/kg
and all naturally occurring trace elements in μg/kg in carboxymethyl cellulose
complex of organic matter. Dietary fibre: 24,3 g/kg. Insoluble ash in HCI: 3.69%
Humidity

max 15%

pH

5.8

Particle size

0 – 200

μm
Packaging
As our premier product for animals, HUMAC® Natur AFM is available in 3 kg buckets, 25 kg PE bags as well as 1000 kg big bags.
Packaging

Units per pallet

Net weight

 

HUMAC® Natur AFM 3 kg PET bucket

96 pcs.

288 kg

HUMAC® Natur AFM 25 kg PE bag

40 pcs.

1000 kg

HUMAC® Natur AFM 1000 kg big bag

   1 pc.

1000 kg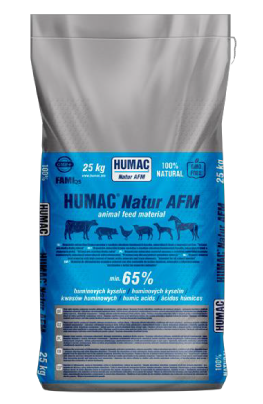 for animal husbandry
Contact person
For more information and possibilities for cooperation please reach out to us.
Our location
Werferova 1
040 01 Kosice
Slovakia