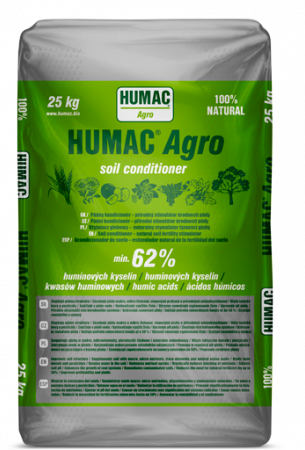 Agriculture, gardening and the environment
What is it?
HUMAC® Agro is a natural soil conditioner with high content of humic acids obtained from activated Leonardite, a 100% active natural substance. The product is applied to soil or substrates during fertilization to enhance various chemical, physical, and biological processes which in turn improve soil fertility and soil properties. Humic acids are the primary energy source for biological processes and have properties of physiologically active substances regulating plant growth and development. No chemical additives were used during the manufacturing process. product is certified for use in organic agriculture. As of 2020, the product is Kosher certified for producing Kosher approved crops.
Composition
»  Content of humic acids: min. 62% in dry matter
»  Moisture content: max. 20%
»  pH level (1% water suspension): 6.5
»  Contains all naturally occurring macro, micro and trace elements chelated to natural amino acids
Economic benefits
» At least a 10% increase in crop production will ensure a return on the costs of purchasing the product already in the first year
»  The following 2-3 years from application, the soil brings benefits in the form of an increased yield of the planted crops
»  
Lower need for technical fertilizers ensures a 40% saving on additional fertilization
See the results using HUMAC® Agro in crop farming
Natural soil conditioner
with high content of activated natural humic acids (min. 62%)
What does it do?
Improves soil structure

– creates stable soil aggregates by bonding sand, silt and clay particles, improves soil aeration and water management, as well as it 

significantly reduces the risk of of water erosion

Retains water in the soil

– improves infiltration into soil and its water retention capacity; increases the volume of water available for plant uptake

Soil detoxifier

- immobilizes toxic metals, PCBs, dioxins and other toxins in the soil limiting their bioavailability and/or assisting in their biodegradation

Adds macro, micro-nutrients and trace elements to the soil

linked to natural amino acids 

in chelated form making them readily available for plant uptake

Improves conditions for the development of soil bacteria, microorganisms

and increases the rate of decomposition of organic compounds, substrates, unused nutrients in the soil making them available for plant uptake

Significantly increase the growth of a plants root system

(by 30 – 50%). A larger root system increases the plant's drought resistance and increases nutrient uptake for faster growth

Significantly reduces the leaching of nutrients from soil

(N, P, K, Ca, Mg and 

other mineral trace elements) optimizing fertilizer efficiency

Increases soil humus content

, supplies organic carbon to soil (50% of its volume)

Increases plant's tolerance to biotic and abiotic stress factors such as fungal diseases or drought, salinity and extreme temperatures
How do I use it ?
HUMAC Agro is supplied as a powder of 0,00 – 0,40 mm in the 5 & 10 kg buckets for easy application by ladle, cup or hand.  25 kg bags and big bags come in 8mm granules to be used by broadcast spreaders for even application with minimal dust. 
Packaging
HUMAC® Agro is available in 25 kg PE bags, 500 & 1000 kg big bags.
Units per pallet:
| Packaging | Units per pallet | Net weight |
| --- | --- | --- |
| 25 kg PE bag | 50 pcs. | 1250 kg |
| 500 kg big bag | 2 pcs. | 1000 kg |
| 1000 kg big bag | 1 pc. | 1000 kg |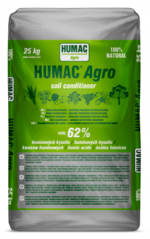 Recommended dosage
(based on soil quality)
Cereals, canola, corn: 250-500 kg/ha;
Fruit orchards and vineyards: 20-40 kg/100 pc;
Fruit crops, vegetables, legumes: 350-500 kg/ha = 0,35-0,5 kg/10m2;
Root vegetables and intensive crops: 250-500 kg/ha = 0,3-0,4 kg/10m2;
Herbs: 250-500 kg/ha = 0,25-0,50 kg/10m2;
Ornamental plants and bushes: 20-30 kg/100 pieces (during planting to the roots);
Lawns: 0.2-0.5 kg/m2;
Preparation of compost: 3-5% of the preparation is gradually added to the compost mass;
Manure fertilization: admix the preparation to manure in amount of 5 kg/10m2;
Land without topsoil and tailings: A basic dose of 1-3 t/ha applied repeatedly throughout 2-3 years in combination with artificial fertilizers and grass seeds.
Contact person
For more information and possibilities for cooperation please reach out to our sales representative:
Our location
Werferova 1
040 01 Kosice
Slovakia