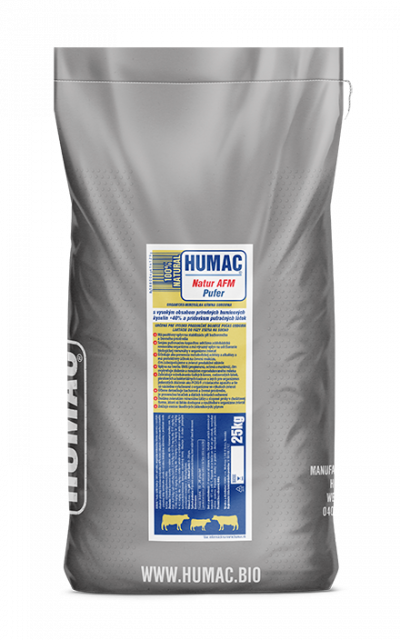 For productive dairy cows
Feed material made from Leonardite with high content of activated humic acids (min. 40%) enriched with Magnesium oxide as a buffering agent for productive dairy cattle and other ruminants.
Composition (in dry matter)
Natural humic acids: min. 40%; fulvic acids: max. 5%; MgO: 26,4%; Ca O: 2,64%; Fe2O3: 2,14%; Analytical constituents: Ca: 28 185 mg/kg; Na: 4 387 mg/kg; K: 556 mg/kg; Br: 33,7 mg/kg; Mg: 3 400 mg/kg; Fe: 12 697 mg/kg; Cu: 10 mg/kg; Zn: 27 mg/kg; Mn: 95 mg/kg; Co: 0,83 mg/kg; Se: 1,11 mg/kg; V: 28 mg/kg; Mo: 1,80 mg/kg and all naturally occurring trace elements in mg/kg in carboxymethyl cellulose complex of organic matter. Curde fibre: 14,9 g/kg. Insoluble ash in HCI: 3.69%
 
Humidity

max. 15%

pH

7,5

Particle size

0 – 200

μm
Available in 25 kg PE bags with 40 pcs per pallet.
Added benefits for dairy cattle: 

  »  Supports the normal functioning of the immune system
  »  Maintains stable milk composition
  »  Maintains an optimal pH of the rumen and other  parts of the digestive system       without the need for other buffering agents
  »  Supports a balanced digestive system
  »  Supplements diet with wide spectrum of macro, microminerals and trace elements
Contact person
For more information and possibilities for cooperation please reach out to us.
Our location
Werferova 1
040 01 Kosice
Slovakia