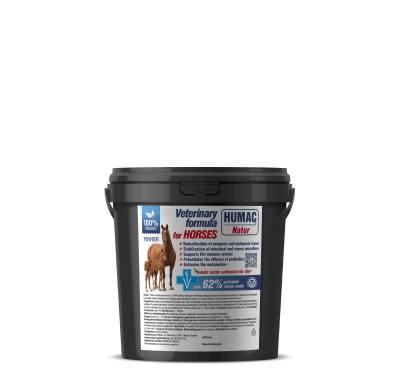 A natural veterinary formula for horses and foals 
Veterinary formula made from Leonardite with high content of activated humic acids for both prophylactic and therapeutic applications. The formula is dual activated and microbiologically controlled for high purity. 
HUMAC® Natur veterinary formula is a 100% natural substance, a brown-black powder with high biological and pharmacological effectiveness. It is produced by activating the mineraloid Leonardite without additives, for horses with high purity. It is added in specified amounts to compound feeds of foals and horses. The formula does not leave any residues within the body, there is no withholding period. 
 
Humidity

max 15%

pH

5.8

Particle size

0 – 100

μm
Composition: Humic acid content in dry matter min. 62%, all naturally occurring macro, micro and trace elements in the carboxymethylcellulose complex of a natural substance; all natural amino acids ensuring the accessibility of trace elements. Crude fibre: 24.3 g / kg; ash insoluble in HCl: 3.69%; 
Dosage: The veterinary product is mixed into feed which can be fed immediately.
Available in 3 kg PET buckets and 25 kg PE bags.
Daily application can yield these expected health benefits:
»  Detoxification of exogenous and endogenous poisons, heavy metals and toxins ingested in animal feed
»  Stabilization of the intestinal microflora, prevention of indigestion, activation of metabolism
»  Support the immune system, influences the condition and appearance of animals, reduce stress and improve overall well-being of animals
»  Provides proper nutrition for the horse by supplementing it with minerals and trace elements in chelated bonds
Contact person
For more information and possibilities for cooperation please reach out to us.
Our location
Werferova 1
040 01 Kosice
Slovakia